I graduated Lakeside School of Massage in Milwaukee, WI in 2011. After leaving school I knew that I wanted to pursue a career in sports and therapeutic massage. I began my practice at a local health and fitness club.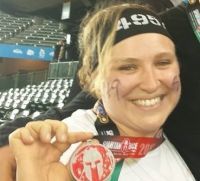 While working at the gym I pursued and achieved certification as a Personal Trainer and a Nutrition Consultant. Being able to fully consult each client on how to reach their health and wellness goals is extremely important.
In the year and a half that I worked at the gym I was able to learn more about the unique impact to the body of each sport and activity. I have had the opportunity to work with a wide variety of weekend warriors as well as professional athletes. Every day is a new opportunity and every body is a new challenge. I love what I do and I look forward to sharing the many wonderful benefits of massage with each person who comes to the table.
When not at work I enjoy spending time with my husband and two children. We enjoy camping, music and dancing, and playing with the dog.